Over the past century, Ennis, Inc. has grown from a single newspaper press to the largest wholesale printing manufacturer in the nation. Select an era below to navigate to that section on the timeline and learn more about our unique history.


1909
Ennis, Inc. was founded in Ennis, TX in 1909 after a large fire burned down the local newspaper facility. Garner Dunkerley, Sr. of Ennis, TX purchased the list of subscribers and equipment for $1,000 and formed Ennis Printing & Publishing. The new company issued 180 shares of stock at $50 per share and sold them to 23 Ennis residents. This gave the company a capitalization of $9,000. Ennis Printing & Publishing sold advertising and job printing while also buying and re-selling cotton tags as a dealer to the warehouses and gins in the Ennis area. Eventually, Mr. Dunkerly started buying and overprinting blank tags, leading to the purchase of the first Ennis tag press. Cotton tags, gin receipts, and supplies were the primary products produced by the company until 1936.
1937-1939
The company decided to sell the newspaper business so it could concentrate on the development of its growing tag and book business. It was then that the company's name was changed to Ennis Tag & Salesbook Co. In 1938, the company started to manufacture carbon paper under a new division, American Carbon Paper Manufacturing Co. (AMCO).
1940
The company expanded to the Southeastern market after opening a warehouse in Birmingham, AL. During World War II, the company manufactured a variety of diverse products including school supplies, index cards, paper bags, file folders and legal pads.


1944
Sales topped $1,000,000 and continued to grow.
1949
The Chatham, VA facility was established.
1953-1954
Ennis began producing snap-a-parts, register forms and continuous forms.
1957-1958
Garner Dunkerly, Jr. was elected President and the company's name was changed to Ennis Business Forms, Inc.
1959
Ennis celebrated 50 years in business. The Paso Robles, CA facility was established.


1966
The Dewitt, IA facility was established.
1967
Len Gehgrig was elected President and an acquisition program began. The first acquisition was ABC Business Forms in Miami, FL. This plant produced pegboard forms and was sold after about five years to Transkrit Corp.
1969
Ennis began trading on the New York Stock Exchange (EBF).
1971-1979
Throughout the 1970s, Ennis expanded to Knoxville, TN, Ft. Scott, KS and Wolfe City, TX. The acquisition of the Wolfe City plant made Ennis the largest producer of cotton tags in the world.
1980
Ennis expanded its manufacturing facilities to Moultrie, GA and Coschocton, OH for production of snap-a-parts.


1981
A small continuous imprint plant was opened in Dallas, TX. This plant was moved to Ennis, TX in 1988 and is now the Ennis Imprint Facility.
1986
Bob Mitchell was elected President and sales topped $100 million.
1987
Label manufacturing operations were established at the Wolfe City plant.
1990
Charles Ray was elected President.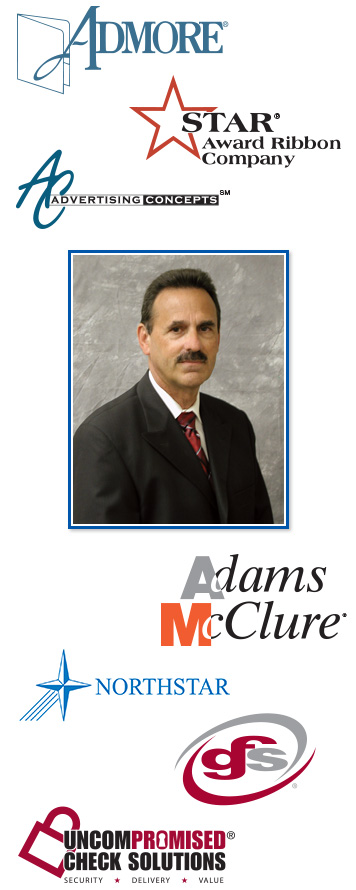 1991
Admore in Macomb, MI, which specializes in presentation products, was acquired.

1992-1993
The company acquired two award ribbon companies, which were merged and moved to the Ennis, TX plant, now operating under the name Star Award Ribbon Company.

1996
Advertising specialties and Post-it® Note product lines were moved to the Wolfe City plant and now operate under the brand name Advertising Concepts.

1997
Keith Walters was elected President.

1999
Ennis acquired Adams McClure, which specializes in point-of-purchase and commercial printing.

2000
A major acquisition period began with the procurement of Northstar and General Financial Supply. These companies expanded Ennis' financial forms and negotiable documents line and led to the development of the software compatible form and check line, Uncompromised Check Solutions®.


2002
Ennis acquired Calibrated Forms. Calibrated is an industry leader in the manufacturing of custom forms and envelopes.
2004
Ennis acquired Alstyle Apparel & Activewear, a California-based apparel manufacturer. The acquisition of Alstyle doubled the size of the company to more than $500 million in revenue.
2005-2006
Ennis acquired Royal Business Forms in Arlington, TX, Specialized Business Forms in Caledonia, NY and Block Graphics located in Sun City, CA and Portland, OR. These acquisitions expanded the company's custom and specialty forms and envelope product lines.
2007
Ennis acquired Trade Envelopes in Tullahoma, TN, B&D Litho of AZ in Phoenix and Ennis of Colorado in Denver (previously Skyline Business Forms).
2009
Ennis celebrated its 100 year anniversary.
2010
Atlas Tag & Label in Neenah, WI joined the Ennis network, becoming the 12th Ennis acquisition in under a decade.


2011
In October 2011, Ennis acquired Printgraphics, located in Nevada, IA and Vandalia, OH. Printgraphics is a leading wholesale manufacturer of fully integrated document solutions.
Ennis launched an eCommerce solution called EOS touchpoint, giving distributors the ability to sell products through online storefronts. This technology gives Ennis and distributors a competitive edge in the marketplace.
2012
Ennis acquired PrintXcel and Printegra. The PrintXcel facilities are located in Visalia, CA, Toledo, OH, Clarksville, TN, and Fairhope, AL. The Printegra facilities are located in Livermore, CA, Arlington, TX, Smyrna, GA, Indianapolis, IN, and Fairport, NY, with a sales office in Jaffrey, NH. These acquisitions increased annual revenue by approximately $80 million.
2013
In October 2013, Ennis acquired Folder Express in Omaha, NE, Wisco Envelope in Tullahoma, TN, and National Imprint Corporation (NIC) in Claysburg, PA. These acquisitions added over $60 million in annual revenue and extended the Ennis footprint to 23 states and 57 facilities across North America.
2014
During the first half of the year Ennis announced the acquisition of the 5 companies that previously made up Sovereign Business Forms. The 5 companies added under the Ennis umbrella included Curtis Business Forms, Falcon Business Forms, Forms Manufactures (FMI), Mutual Graphics, and Tri-C Business Forms. Hoosier Data Forms located in Indianapolis, IN was acquired in early October. At the end of the year Ennis finalized the acquisition of Kay Toledo Tag and Special Service Partners (SSP), securing Ennis' spot as one of the leaders in cotton tag manufacturing in the US.
2015
Ennis moved Folder Express manufacturing from Omaha, NE, to a company-owned building in Columbus, KS, in the fall of 2015.
2016
During March of 2016, Major Business Systems in Hillsborough, NC, was acquired, bringing the total number of acquisitions in the last five years to 15. In April of 2016, the sale of the Alstyle Apparel division allowed Ennis to focus on its core business segment of print.
At the end of August 2016, Ennis acquired the assets of Atlas Tag of Canada. The customers are now serviced by Atlas Tag & Label in Neenah, WI.
2017
On January 27, 2017 the acquisition of Independent Printing Company, Inc. was completed. This included the 4 locations in Wisconsin with the main facility located in DePere, Wisconsin. The business produces presentation folders, checks, wide-format and commercial printing. With this acquisition, Ennis now has four folder facilities in Michigan, Kansas, California and Wisconsin, as well as wide-format capabilities in Colorado and Wisconsin.
2018
On July 31, 2018, Ennis completed a merger of Wright Business Graphics with a wholly owned entity of the Company. Headquartered in Portland, Oregon, Wright has several locations in Oregon, Washington and California and produces business forms, pressure seal, packaging, direct mail, checks and commercial printing. The addition of Wright solidifies Ennis as the preeminent provider of printed products and services to the West Coast.
2019
Ennis acquired Integrated Print & Graphics of South Elgin, Illinois on March 16, 2019. IPG adds capabilities to the Ennis product line, with a focus on high-color commercial print to the direct mail channel. IPG also gives Ennis a strong presence in the Chicago marketplace.
On July 15, 2019, Ennis closed the acquisition of all outstanding stock of The Flesh Company and its wholly owned subsidiary, Impressions Direct, Inc. Flesh has two locations, one in St. Louis, Missouri and one in Parsons, Kansas. Flesh adds another outstanding brand to the Ennis network, with a heritage that dates back more than 100 years.


2020
In December of 2020, Ennis acquired the assets of Infoseal LLC located in Roanoke, Virginia. This acquisition furthered Ennis' pressure seal and tax forms capabilities and offerings.

2021
On May 31, 2021, Ennis closed on the acquisition of AmeriPrint Corporation in Harvard, Illinois. AmeriPrints' capabilities and long-standing reputation in the Chicago area, add depth to the Ennis product line including integrated products, barcoding and variable imaging.

2022
In the early months of 2022, Superior Copies was acquired, allowing Ennis to serve our Midwest customers with more efficiency. The company has been in business for almost 30 years with a focus on digital print and bindery services. Super Copies moved its operations into Ennis' Integrated Print & Graphics facility in South Elgin, Illinois.

During November of 2022, Ennis acquired School Photo Marketing from Morganville, New Jersey. The company provides printing, yearbook publishing and marketing-related services to more than 1,400 school and sports photographers working for schools around the country. This addition brings exciting opportunities to provide this new channel with products produced through Ennis manufacturing operations.

2023
On May 23, 2023, Ennis reported its acquisition of the real estate and operating assets of Stylecraft Printing Company in Canton, Michigan. A trade-only printer since 1967, Stylecraft specializes in business forms, integrated products and commercial printing. Stylecraft expands our product lines and geographical footprint, as well as adds a well-known brand that has been serving the distributor channel for more than 50 years.

On June 2, 2023, Ennis announced its acquisition of the operating assets of UMC Print in Overland Park, Kansas. UMC Print has been a leading trade-only printer and provider of commercial printing services since 1936. The procurement of UMC Print continues our commitment to adding strategic locations and capabilities to drive growth with our distributor partners.